Each year, Prudential Beazley Real Estate awaits the announcement of Pantone's Color of the Year. We are always searching for the latest color schemes and home design trends, and this color is usually the starting point of our inspiration. Several of our model homes have been inspired by the Color of the Year, and this year will be no different.
When Pantone announced that Marsala, which can be described as a less intense merlot, would be the Color of the Year, we were ecstatic. This color can make a bold statement, or be a subtle accent color, depending on the homeowner's preference. But just how would we go about achieving the perfect look in our homes? 
We did some research and came up with 5 tips for decorating with Marsala. This list is sure to make anyone a fan, even those who are shy about using color in their home.
5 Tips for Decorating with Marsala
For small spaces…
Small, charming spaces can often be swallowed by dark, rich colors such as Marsala. To create balance and harmony, accent the color with brass and mix in lots of blues and oranges. This contrast will give the space a worldly, stylish look. 
Go bold…
Marsala is an all or nothing kind of color. So by all means, get over-the-top with it. Rooms that are soaked in tones of red have a formal feel to them. Tone it down for a more casual look with creamy whites, natural woods, and cherry blossoms. 
Simple accents … 
Marsala works very well in rooms with classic lines and a neutral foundation, such as a dining room. Here you can achieve a classy look without feeling dated by using Marsala in small doses. Use it as an accent color on the dining room chairs, the wood stain, a tea box, or a rug.
A statement piece…
A bold piece of furniture or an accent wall in Marsala can give a room an eclectic, modern look. A bold statement piece works best in a room with a lot of natural light.  Stick to one single Marsala piece and pair it with colors such as blue, yellow, orange, and red.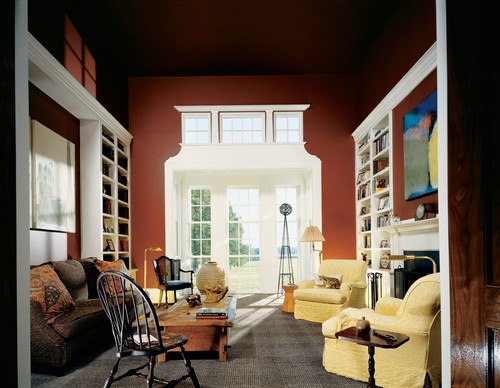 A rug…
You can find Marsala in many rugs sourced in Turkmenistan, Turkey, northern Afghanistan, Morocco, Uzbekistan and India. And because a rug sits on the floor, it can easily be combined with other colors and patterns. In this way Marsala becomes a nice stable tone that grounds the room. 
There are many ways to utilize the color Marsala all over your home. In the bathroom, bedroom, kitchen, stairway…. The possibilities are truly endless. We are looking forward to seeing how designers utilize this color throughout the year, and as always, will stay on top of the latest trends. 
Prudential Beazley Real Estate brings buyers and sellers together across the Augusta Metro area. For more information about the finest real estate in the area, call 706-863-1775 or contact us here . We have the best agents in the business awaiting your call!